Meet the people of TMWA whose commitment to serve our community ensures our water quality is among the best in the country.
Kim Boldi, Water Supply Specialist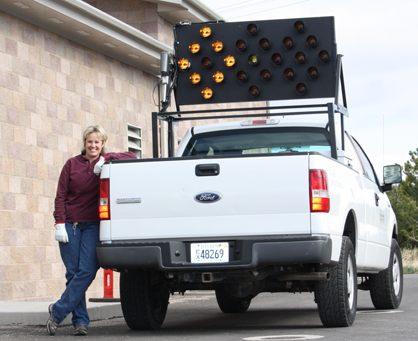 What brought you to TMWA and where did you work before?
I worked as a flight attendant for 15 years, but I'm a homebody and I like to be home. I have worked at TMWA for 6 years.
How did you hear about TMWA's opening?
I was tired of travelling and I had started to look for a new job. I had a friend who worked at TMWA and she said it was a great place to work and that I should apply for a job. So, I waited for positions to open and started applying. I was initially hired as a Customer Service Representative and I enjoyed that job. I do occasionally miss the interaction with customers, but now every once in a while customers will stop me out in the field and ask me questions.
How does your job at TMWA differ from other jobs you've had and other places you've worked?
Now, I work outside and I don't work with customers. It's totally different and not customer service related.
What does a Water Specialist do?
I am responsible for all the pump stations and tanks—I check for their security. I keep them clean, check for motors that might sound bad or bearings that might be going out. I change pressure charts, which track our pressure in the system to make sure we maintain our pressure and to make sure we're not causing water hammer (aka a pressure surge) or under pressurizing. And occasionally, I do pump resets.
What do you love most about your job?
That I work alone. Basically, after being in the Customer Service industry for so long it's nice to get out in the field. Also, I have to be self-motivated because I'm alone and there are things that really need to get done every day.
When did your interest in being a Water Supply Specialist begin?
There was a job opening and a chance to move within the company. One thing I had to get used to with my new job was dealing with spiders instead of customers. But, the job has really fit into my life and I love the flexibility of my work schedule.
What is unique about your job at TMWA?
I'm the only one that does it!
What have you learned working at TMWA?
I've learned a lot about the field work and what TMWA employees do in the field. I have a lot broader spectrum of what goes on in the system and how the water actually gets to the houses of our customers.
What do you do on a typical day on the job?
On a typical day I check reservoirs to make sure they're secure, locked, free of wildlife, and to make sure the drains are draining properly. Then, I go to each pump station and change the pressure charts, check the station, and check the tanks to make sure they haven't been tampered with or tagged. I check between about 26-30 pump stations a day, between 11-15 tanks a day, and 5-10 wells a day.
Do you have a favorite tool that you use at TMWA?
My favorite tool is a rope with hooks on each side that the mechanics made me. I use it to pull garbage buckets out of the pump stations to empty them and then lower the buckets back down—it's really handy.
How has TMWA invested in your professional development?
They paid for me to get my Distribution 1 and Distribution 2 certifications and for my continuing education credits needed to maintain my certifications. The knowledge that I've gained about how the water distribution system works has been invaluable.
What is your proudest professional accomplishment while working at TMWA?
Just doing my best every day and representing TMWA by being courteous, especially while I'm out driving around doing my job.
What does TMWA's Quality. Delivered. tagline mean to you?
It means doing my best every day.
How does your role help ensure that TMWA delivers its Quality. Delivered. tagline?
Making sure everything is working and within the parameters that we set for the pumps and the stations. Also, making sure everything meets the sanitation standards for the sanitary surveys that take place.
What encouragement would you give young professionals entering into the Water Supply Specialist field?
This company is great and I recommend anyone interested in water or water treatment apply!
What do you enjoy doing outside of TMWA?
I like to camp and spend time with my 3 dogs. My favorite place to camp is Twin Lakes, CA and Warm Springs, NV.