TMWA Goes GREEN - Environmental Stewardship
TMWA's vision is "to be the best customer focused water purveyor." It's a commitment to our customers and our community. It means protecting the environment, evaluating economic and financial impacts of our decisions and taking responsibility for the social consequences of our actions. Our stewardship goes beyond managing one of the most valuable natural resources we have in the community -- water.
TMWA has a corporate goal to "analyze costs, benefits and funding opportunities for renewable energy and/or energy efficiency projects and if economical, incorporate in capital budget for Fiscal Year 2011." The future goal for 2012 is to continue with the 2011 goal, but to evaluate installing another renewable energy project at a TMWA facility.
As environmental concerns grow, so does TMWA's corporate responsibility. TMWA is always looking for ways to reduce its carbon footprint. TMWA is part of this community and as stewards; we will continue to evaluate energy solutions that save money as well as the planet.
Water and Energy
It takes energy to divert, treat and deliver high-quality water to our customers. While we rely on gravity to do as much as it can, we still require an average of 50 million kilowatt-hours of electricity per year to maintain our water operations. We also have a fleet of vehicles and other equipment that run on fuel. Energy costs are one of the largest controllable costs in our organization so we are continually looking for ways to reduce that cost and limit our impact on the environment.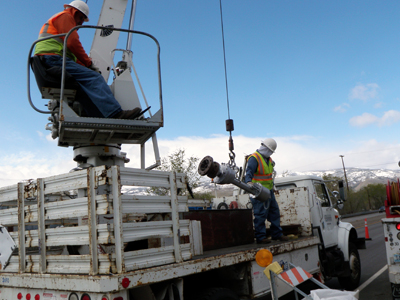 TMWA employees preparing for a "hot tap"
Our Strategies
TMWA has several green strategies in place:
Generating as much clean, renewable energy we can from our run-of-the-river hydroelectric generation plants;
Using off-peak energy to operate our treatment plans and pump stations whenever possible;
Ensuring capital improvement projects incorporate energy savings wherever possible;
Installing other renewable energy projects with reasonable payback periods;
Running our fleet of work trucks on biodiesel; and
Reducing, reusing and recycling as many office products as possible.
Read more about our green projects, and TMWA's commitment to environmental sustainability and renewable energy.