Water Quality Report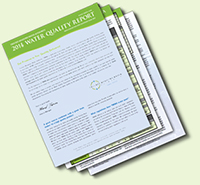 At TMWA, providing you with high-quality drinking water is not just our job, it's our life. We are proud to report our water quality is among the best in the country. But it doesn't happen by accident. Our team of highly skilled engineers, scientists and operators work hard to provide you with clean, safe drinking water and dependable service. Each month at our state-of-the-art laboratory, we administer more than 1,000 tests to ensure your drinking water is significantly better than EPA standards require.
Water Quality Facts
Our annual Water Quality Report (2014 Informe de la Calidad del Agua), provided to our customers in accordance with the Safe Drinking Water Act, has been compiled to help you understand the water supply and quality issues vital to our area.
Our Water Quality Lookup page is a map-based reference tool providing water quality data by geographic location within our service territory.
How Clean is TMWA Water? Providing safe, reliable, high-quality water to the community is our top priority here at TMWA.
Water Quality Topics
Fire Hydrant Flushing
Learn how this can create dirty/brown water.
PCE and Your Drinking Water
Get answers to commonly asked questions.
TMWA Tap Water is Free of Pharmaceuticals
Results are negative for EDCs and Pharmaceuticals. Read more
Water Filtration Systems
Learn more about Home Filtration Systems.
Additional questions? Check out our Frequently Asked Questions or contact the Water Quality Department at 775-834-8118.
Other Information