Assigned Day Watering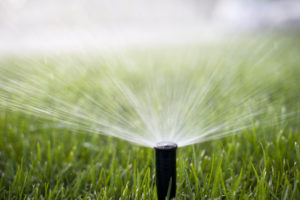 View this Topic Paper as a PDF: Assigned Day Watering
Responsible Outdoor Water is for Everyone
Whether it's raining in June or dry in December, Truckee Meadows Water Authority (TMWA) always values responsible water use. This means watering according to the day's weather conditions, watering only what your yard needs and avoiding waste. Although we can't help the weather, we can help you learn how to water your yard more efficiently.
Tours and workshops - From irrigation start-up to winterization, our Conservation Department has workshops and tours to help you understand the watering needs of your landscape throughout the seasons. All workshops are FREE. View a full schedule of events at www.tmwa.com.
The Need for Assigned Day Watering
Assigned-Day watering is designed to help our customers use water efficiently by designating days for outdoor watering. The average, residential customer's water use increases by four to 10 times during sprinkler season. TMWA's Assigned-Day watering schedule helps you manage your water use and preserves one of our most precious natural resources.
Water Responsibly on Your Assigned Days
Assigned-Day watering only applies to your sprinklers. Run your them when it's cool and not windy, usually early in the morning and be sure to turn them off when it's raining. If the last number of your home or business address is: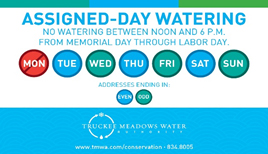 Even (0, 2, 4, 6 or 8), run the sprinklers on Tuesdays, Thursdays and Saturdays.
 Odd (1, 3, 5, 7 or 9), run the sprinklers on Wednesdays, Fridays and Sundays.
Shut your sprinklers off between noon and 6 p.m. from Memorial Day through Labor Day.
Also, give your sprinklers a rest on Mondays, as it is TMWA's day to replenish and maintain our water system.
Drip systems and hand watering of trees, shrubs, flower beds and vegetable gardens are permitted any day of the week. Please use an automatic shut-off nozzle when using a hose.
Truckee Meadows Community Forestry Coalition -The majority of trees in the Truckee Meadows are in homeowners' yards and the Truckee Meadows Community Forestry Coalition provides you with resources to properly care for your trees, using the weather as your guide. Water your trees Weather-Wisely and use Weather-Wise tree care tips to protect and preserve our community forest. Proper tree care begins with proper drip irrigation and Weather-Wise Watering to build a deep, strong root system. For a wealth of Weather-Wise tree care tips and a comprehensive list of trees for our high-desert climate, visit www.communityforestry.org.
Conservation Specialists & Water Usage Review Program - TMWA's Conservation Specialists are also available to visit your home or business to help you identify water waste and guide you back to Watering Weather-Wisely. Please call customer service at (775) 834-8080.
Growth is paying their full cost of new facilities to provide new service. The fee that developers pay includes the cost of new water mains, pumps and tanks, plus expansion of water treatment plants. The development community has agreed to this policy, which ensures that existing customers do not pay for new facilities to serve new development and new customers.
New development funds facility charges, feeder main fees, inspection charges and engineering services, as well as $1,830 per acre-foot of demand to fund meter retrofit. Thus, TMWA's existing customers do not pay the cost for growth or meter retrofit. These fees and charges are reviewed regularly and updated based on the most recent facility plan, construction and other cost information.