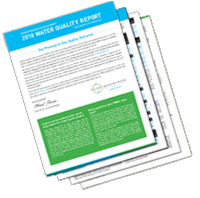 TMWA is dedicated to providing reliable service and delivering high-quality drinking water to over 400,000 residents and businesses throughout the Reno and Sparks area. In accordance with the U.S. Environmental Protection Agency (EPA) Consumer Confidence Rule, the 2018 Annual Water Quality Report is now available. The data for this report was collected in 2017. This information is provided to inform our customers about the source of their drinking water and how it compares to drinking water standards established by the EPA.
To access the report, visit www.tmwa.com/quality2018. If you would like a print copy mailed to you, please call Water Quality Senior Chemist Craig Moyle at (775) 834-8130, or email him at cmoyle@tmwa.com.
TMWAs staff takes pride in the water delivered to your tap. We make maintaining and rehabilitating the systems infrastructure for the safety of our customers a constant priority. As your community-owned water purveyor, we are always ready to answer your inquiries and discuss your water quality. If you have specific questions, please call our water quality department at (775) 834-8118. Overseeing and maintaining our water quality for the safety of the public is our number-one priority every day.