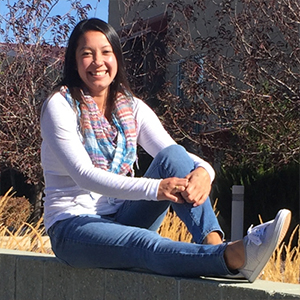 How did you come to TMWA?
I first came to TMWA when I was 18 years old. I was working three jobs at the time and a friend helped get me a temporary position filing backflow tests—it was sort of like an intern job. After that, I was a Customer Service Representative for two and a half years and then I went into the field as a Service Utility worker. After five years in that role, I became a Field & Meter Services Coordinator in February of 2016. The great thing about working in these different positions is that I've been able to work in nearly every part of TMWA's Customer Service function.
How Has TMWA Helped You Grow Your Career?
I've essentially grown up here, and TMWA's helped mold me into who I am and how I work and the position I have grown into. As an organization, TMWA has supported me in everything I've done and has helped me get to where I am today. Andy [Gebhardt, Director of Customer Services] has been my boss since I was 18 years old. He has literally been there and helped mentor me from position-one to where I am now. TMWA has also put me through classes and training to help get me qualified for new and bigger roles—and I'm still taking classes. Basically, TMWA does everything that it can to make me the best person I can be to do my job. That's pretty great.
If you could switch to any other job at TMWA for a day, which would it be?
I would definitely like to do something where I was working outside. That was one of the things I really loved about being a service technician was being outside. It would be really fun to be an engineer in the field.
What do you like most about TMWA?
The fact that I still come to work with a smile on my face every day—and that's definitely because of the people I work with. It's like family here and people really care about helping each other succeed.
What is your favorite project that you have worked on at TMWA?
I enjoy when I have an opportunity to teach new employees. I think training and getting to work with individuals is rewarding because it's something that made a huge difference for me when I was new. It never goes away and it's something you can take with you throughout your career.
What do you want our customers to know about what you do?
I want the customers to know that our measure of success is that they don't even need to think about what we do—that the wate always on.
Fun Fact:
I love to cook … everything. Perfect example: I was home sick this weekend and I cooked salmon burgers with kale and then I made chicken Alfredo with blackened chicken, I made huevos rancheros for breakfast … There was other stuff, too. I just love to cook.
What are three words you would use describe TMWA:
Fun
Challenging
Inspiring