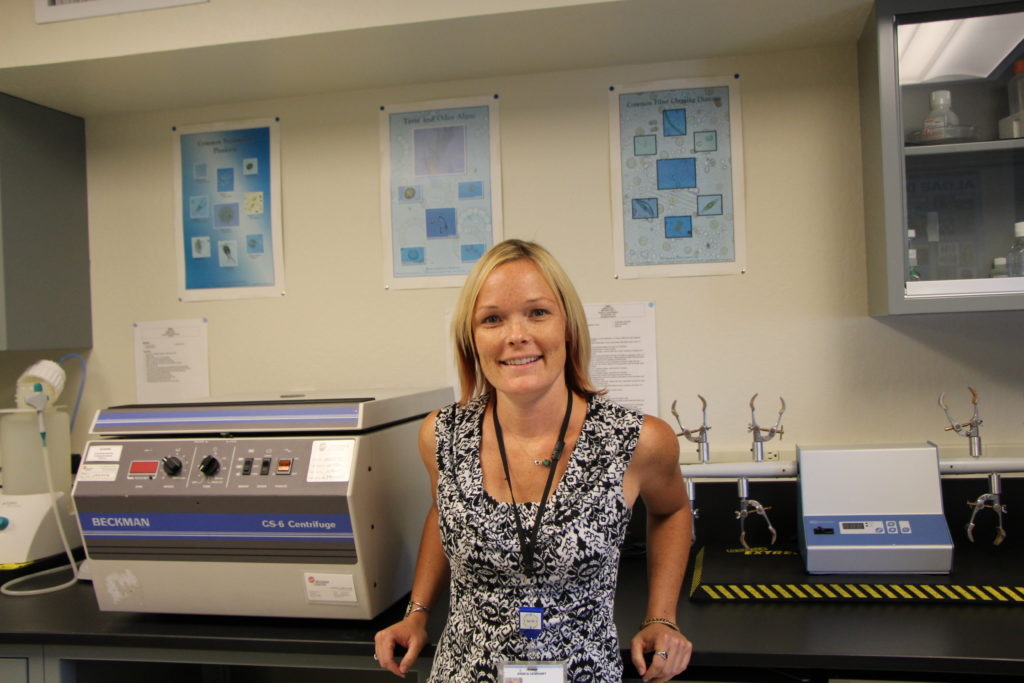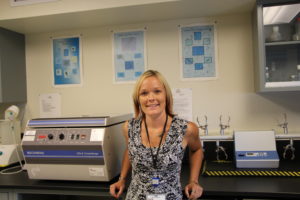 Jessica Gearhart
Associate Microbiologist in Water Quality Dpt.
How did you come to TMWA?
I joined TMWA as a seasonal Conservation Consultant in 2009, while I attended UNR to get my degree in biology. After I got my degree I constantly checked the TMWA website for openings and eventually applied. The people there were great and I loved the way TMWA runs—given what I wanted to do for a living, it seemed like a perfect fit.
What do you do at TMWA?
I am an Associate Microbiologist in the Water Quality Department. I mainly focus on testing for pathogens, like cryptosporidium. But I also answer the Water Quality Hotline and do some work for the chemists as well. We work together and have some overlap. It's important to test as frequently as we do because that's the only way for us to really know our water is as great as it needs to be. It's not something that's taken lightly. You can't make mistakes. That's why we have a lot of double and triple checks. A big part of our job is to constantly review the work that  has been done and have that second, third, fourth set of eyes on it.
What does your typical day look like?
Well, every day is a little different. It depends on conditions—water is ever changing and we have to be on our game to ensure the quality we deliver is always the same—excellent. When I come in I might not know exactly what is in store for that day but the majority of the time I am out doing field work, or working in the lab. What's great about being in a utility the size of TMWA is you can follow your samples all the way through to results—it gives you a real sense of ownership in the process rather than just only seeing one step of this big process.
What is your biggest challenge?
Testing for crypto/giardia is definitely a challenge. It's just a very detailed and in-depth process that can take about a week from sampling to results. It can be unforgiving, which is definitely a challenge. But it is also really neat that we are the only lab  that runs crypto/giardia analysis in Northern Nevada. Most utilities will contract that work out to a third-party lab. That's fine, but I'd much rather be in a situation where we own the process and are able to track things from end to end. So, yes, monitoring for waterborne pathogens is a huge challenge—it's a lengthy, very technical process—but it's great being part of an organization that has the tools needed to do the job.
What is something most people don't realize about what you do:?
How much sampling we do on a daily basis. For total coliform testing alone, our routine sampling is 180 sites every month. That isn't accounting for all the additional bacteriological, chemistry, and protozoa testing done on a monthly basis. Most people don't realize the extent that we are always taking to monitor our water quality.
What's a fun fact about yourself?
My interests are not limited to small creatures like crypto/giardia. I have always been fascinated by reptiles, even when I was a little girl. When I was in preschool my favorite toy was a plastic alligator. From there I graduated to a leopard gecko and now I have blue-tongue skinks. I think it's because reptiles are so misunderstood—they are not the scary creature's they're made out to be.
What are three words you would use to describe TMWA?
Passionate, Fun and Diverse.
What do you like most about TMWA?
It is just so nice to work for a company where everyone takes ownership and pride in their work.