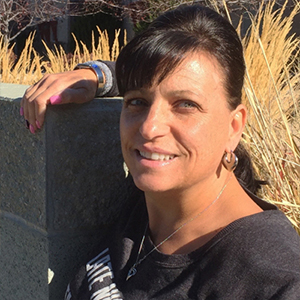 How did you come to TMWA?
I was working for the City of Reno when they were doing payroll for TMWA—which is something I worked on. I got a call from a friend when they were moving position to TMWA. I applied and that was it. I felt very fortunate to get the opportunity because we had all heard what a great place to work TMWA was.
What do you do at TMWA?
I Process all of the Payroll for TMWA. Basically, I make sure time is entered accurately, ensure everyone gets paid every two weeks, ensure all changes get made when necessary, Prepare and process Quarterly Payroll reports, W-2s at year end, PERS monthly reporting, Upload ICMA files, OT reporting to all Supervisors and managers every two weeks. Follow the IBEW contract for all different scenarios, such as 24 hour Shifts, 10 hour Shifts and 8 hour IBEW all with different rules or Letters of Agreements. Ensure all entries are in and accurate, if anyone needs help with entering time etc. I am available to help them.
What do you find most challenging in your work at TMWA?
Just all the different schedules and job types. There are numerous schedules and roles, so you have to track the details like nobody's business. It can be very complicated to keep it all sorted out.
What do you like most about TMWA?
The people. The communication that we have. Good interaction with the field guys, the office people, right up to Mark (TMWA's general manager). It's a tight group and we all take care of each other.
If you could switch to any other job at TMWA for a day, which would it be?
I would have to say something in the field. Just because there are so many interesting projects happening out there, I think it would be really interesting—even for a day.
How has TMWA changed since you have been here?
I've been able to see a lot of people who have been here for years retire. I've also seen a lot of new people coming in with new ideas and new structure. So it's changing all the time. We're growing. But I think change is good
What is your favorite project that you have worked on at TMWA?
During my first six months at TMWA we were implementing a new payroll system. Being involved in that from start to finish was a really great experience. The timing was great because you couldn't ask for a better introduction to the organization's payroll processes. It was a terrific way for me to get my arms around the nuances of what I do every day.
What have you gained from working at TMWA?
I'm definitely much happier in my work. Working for the City of Reno was great but there's much more of a sense of family here. It's pretty easy to come into the office every day when you work in such a positive environment.
What is your proudest moment at TMWA?
The proudest I have been of TMWA was when we learned one of our colleagues had been diagnosed with cancer. Clearly that's devastating news. It hurts to think about it. But the way everyone stepped up to help her—not just putting on ribbons and letting her know they cared but actually doing things like lining up outside of HR to donate vacation time so she wouldn't have to work during treatment … yeah, that was something pretty special.
Fun Fact:
I used to be a bartender at Floyd's Fireside Chat on Kietzke Lane. That was about ten years ago. I don't really drink, which my boss definitely liked. He was a friend of my mom's and he asked me to come work for him. It's interesting because the bartender who trained me there had worked in California where I grew up and my grandfather had been one of his customers. He remembered me from when I was a kid because my grandfather would take us to the bar with him. Small world.
Why do you think TMWA customers are in good hands?
Because we're ready, we know what we're doing and if there's a problem, we get out there and fix it. We have the tools and the knowhow.
What are three words you would use describe TMWA: