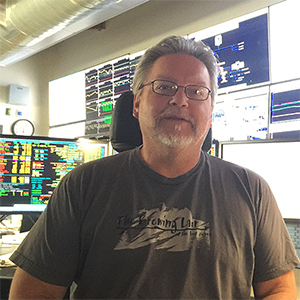 How did you come to TMWA?
I have worked at TMWA since its inception, when the water business was spun off from Sierra Pacific 15 years ago. I started working in water at Sierra Pacific in 1992—for the six years prior to that, I read meters. So I guess that gives me thirty years in utilities.
What do you do at TMWA?
I'm the dayshift foreman of a four-man crew that operates the Chalk Bluff and Glendale Water Treatment Plants—TMWA's two major plants. Chalk Bluff produces approximately 90 million gallons of treated water per day and Glendale produces up to 30 million. My crew also runs the distribution system from the control room here at Glendale. We have four, four-man crews that work 12-hour shifts. Glendale will be idled for the season in mid-October. I will split my time between the Glendale and Chalk Bluff plants after that.
How Has TMWA Helped You Grow Your Career?
In water treatment, there's always training, there's always new regulations, there's always new technology to keep up with—and now, since our consolidation with the County, there's twenty different systems and they're all unique. I've never dealt with slow-sand filtration and some of the technologies that are used in some of the smaller systems. Yeah, the technology is always changing and we're always looking to make better water. We're also always looking for ways to make things more efficient and cost effective—chemical costs, electrical costs are huge so we manage them very carefully— and all these computer platforms—there are like five of them right here that do different things (pointing at the console). Man, I've learned so much.
What do you find most challenging in your work at TMWA?
Every day is different. Summer brings us the busy months when there's a lot of demand that we need to keep up with but winter is when we have to take care a lot of the maintenance. Then for the last year and a half, there's been the consolidation with the county system to contend with. We've been bringing new systems on line like Fish Springs, which requires a lot of monitoring and meeting the challenge of moving water and maintaining water quality—of course.
What do you like most about TMWA?
The people are outstanding.
What is your favorite project that you have worked on at TMWA?
We've created a much more efficient process for assembling the monthly water quality reports. We've really nailed it down. It used to be done by hand—write down four pages of data—things like the high turbidity for the month, the low chlorine residual for the month … Now it's all automated. You basically hit a button, make a few corrections and put out the report. This is TMWA and the State's line of site on our water quality and it's vitally important that we get it right.
Fun Fact about you:
I think most people [at TMWA] know my background. I was born and raised in Green Bay, Wisconsin. I'm a Cheese-head, a Packers fan, l like my bratwurst … stuff like that. That's my history. I go back once a year and get my accent back. I go there and tell everyone they talk funny but by the time I get back I sound just like them. My grandma used to take me to the Packer practices back when I was five or six years old; all I heard was Vince Lombardi's voice—just yelling. He didn't have a megaphone or anything. It was just him yelling.
Why do you think our customers are in good hands?
The effort we put into what we do. Even though most of the water we treat is used for irrigation, showers, laundry and so on, we treat every drop like someone is going to drink it. We care above all about water quality.
What are three words you would use describe TMWA:
Knowledgeable
Efficient
Care—above all, we care about the product we put out there.