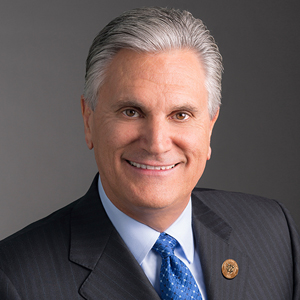 Proudly serving Washoe County since 2012, Commissioner Vaughn Hartung represents District 4, which includes Sparks, Spanish Springs, and Wadsworth.
Commissioner Hartung's roots serving the community began decades ago as a community member in the development of Spanish Springs and appointed to the Spanish Springs Citizens Advisory Board in 1993. He served the Board as secretary, vice chair and as chair for three terms. His goal was to provide citizens with a voice about the future of Spanish Springs. Since then, he has helped guide careful development in Sparks and Spanish Springs on numerous issues, including schools, housing developments, business parks, flood control facilities, sewer services, utility corridors, green energy, parks, transportation, master and area plans and annexation. His many years in citizen planning have earned him the reputation for being fair, objective and unbiased in his decisions.
In addition, for 35 years Commissioner Hartung has been a small-business owner and was a partner in a successful photography studio. He is a former adjunct faculty member for the University of Nevada, Reno and Truckee Meadows Community College, where he taught all phases of photography for two decades. Hartung recognizes that the development of small and medium size businesses is an essential component of balanced regional growth and expanded job opportunities.
Commissioner Hartung is passionate about key economic issues in our region and enhancing community safety through the investment of critical infrastructure for the current and future needs of Washoe County residents. As a result, Hartung is a member of Truckee Meadows Regional Planning Agency Governing Board, the Truckee Meadows Water Authority and a key supporter of the Nevada Water Innovation Campus, a collaborative effort to research and sustainably manage our water resources. This will help ensure a stable water supply to serve the needs of the community for generations to come.
In addition, a recent initiative created and spearheaded by Commissioner Hartung is the Youth Engaged in Service, or YES grant program. The grant program's purpose is to provide support for youth ages 5 to 24 who are engaged in community service or science-related community projects in Washoe County. The YES grant program will be implemented through local partner, the Community Foundation of Western Nevada, who will administer the grant application and award process to local deserving students.