Why does TMWA have an assigned-day watering plan? In short, it promotes smart water use. Water in the Truckee Meadows is a valuable resource. By watering responsibly, you're helping to ensure there's a plentiful water supply for future generations. Whether it's raining in June or dry in December, being smart about water is a way of life in the Truckee Meadows. TMWA is an expert on efficient watering and we know assigned-day watering is one of the easiest and most effective ways to help our community get the most out of our precious water resources.
Assigned-day watering only applies to sprinklers. Drip systems and hand watering with a hose is okay anytime. Running your sprinklers three days a week under the assigned-day watering schedule keeps your yard healthy and your water bill low while avoiding waste.
The best time of the day to run sprinklers is when it is cool, usually early in the morning and later in the evening. Also, it is best to avoid watering when it is windy. Be sure to turn your sprinklers off when it's raining and let Mother Nature take care of the watering for you.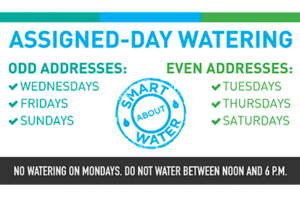 Know your assigned days. If the last number of your home or business address is:
Even (0, 2, 4, 6 or 8), you may run the sprinklers on Tuesdays, Thursdays and Saturdays.
Odd (1, 3, 5, 7 or 9), you may run the sprinklers on Wednesdays, Fridays and Sundays.
Watering Times: This year, we are asking that you shut your sprinklers off between 12 noon and 6 p.m. from Memorial Day through Labor Day to conserve water.
Also, give your sprinklers a rest on Mondays, as this is a day we replenish our water system.
Outdoor watering increases water use of the average residential customer by up to 10 times during the dry summer months. Beyond the clear conservation benefit, assigned-day watering also helps to level off peak usage during the high-demand season.
Using the "Water & Wait" Method with Sprinkler Systems: how long to run sprinklers on your watering days
On your assigned watering days, water your yard until puddles begin to form, then stop and wait for the it to soak in (about 1-2 hours). Repeat this process until water penetrates 6-8 inches deep, which can be determined by easily pushing a screwdriver into the damp soil.
Drip Systems and Hand Watering: slower, controlled releases that can be more frequently applied
Hand watering or running drip systems to irrigate flowerbeds, vegetable gardens, trees and shrubs is permitted any day of the week.
Need Help with Your Irrigation Controller?
Below we have provided links to several of the most common manufacture's online irrigation-controller manuals.