Billing & Payment Options
Automatic Payments With AutoPay
The AutoPay electronic funds transfer process can automatically deduct your monthly payment from your bank account on the date your water bill is due.
With AutoPay, as with any Electronic Funds Transfer (EFT), you tell us which payment method, you would like to use each month (debit/credit card). TMWA will still send you a monthly water bill showing the payment and due date, but you won't need to take any action. In addition, if you have any questions about your water bill, you may always contact TMWA at 834-8080 for clarification.
Here's How it Works:
When you get your next bill, please visit this page to sign up for TMWA's new AutoPay service.
It's that easy! Just click the "Sign up for AutoPay" link below and take the following steps:
Log into our customer account portal (you will need to setup your online account if haven't already done so).
Click Bills & Payments in the left navigation bar.
Select the AutoPay button on the right side of the screen.
Follow the instructions on the AutoPay enrollment page.
Set Up An Account
Now you can pay your bill online for free each month using your checking or savings account. If this is your first visit to our new system, you will need to establish a new user name and new password using the account number that came with your most recent bill.
SIGN UP
Make a One-Time Payment
If you haven't established an online account yet—or wish to make a quick, one-time payment—click the link below. NOTE: When signing in, please use ALL CAPS and provide last name of account holder along with house number and street name only. Do not include street type after street name (e.g. drive, street or court)."

Make One-Time Payment
Just Drop It In The Mail
Simply use the return envelope provided to mail your monthly payment to: TMWA PO Box 12000 Reno, NV 89520-0006
Give Us A Call
Pay your bill 24 hours a day, seven days a week. Payment options include using your checking account or a major credit card. Call: 775-834-8080.
In-Person Payment Options
Pay at TMWA's Office
Located at 1355 Capital Blvd., at the corner of Capital and Corporate Boulevards, our lobby is open Monday through Friday 8 a.m. to 5 p.m. If you simply wish to drop off your payment, you may take advantage of our convenient payment drop box, located outside along Corporate Blvd.
CheckFreePay Locations
Visit the CheckFreePay Payment Center Locator page and use the search tool to find a CheckFreePay location near you. The lowest number (a blue 1) will indicate the location nearest your address.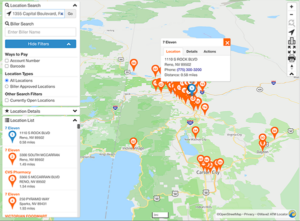 Western Union Store Payment Locations
TMWA accepts payment at many grocery and convenience store locations. Please note that customers must have their bill with them in order to make a payment, and that there is a $1.50 Western Union charge for this service. In addition to the locations listed below, Walmart stores also offer bill payment services.
Many Ways to Pay
TMWA makes bill payment easy by offering numerous ways to pay your bill.
Learn More
Paperless Billing
Instead of receiving a bill in the mail each month, we'll email you a notification when your bill is ready to view. Log in and change your settings today!
Get Started
Set up your TMWA account to access all of our convenient customer service options today.
GET STARTED