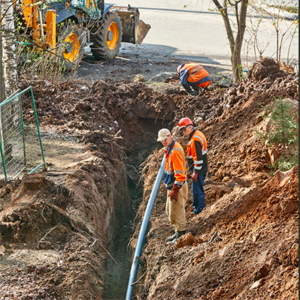 As a homeowner, you may not be aware that you are responsible for repair costs if the water service line on your property fails. Age, soil conditions, ground shifting and corrosion are all factors that may pose risks to your line and result in an emergency breakdown. Water service line failures can be a hassle and may cost you thousands of dollars if replacement is needed.
Truckee Meadows Water Authority has partnered with Service Line Warranties of America (SLWA),* an independent company, to offer eligible homeowners optional Exterior Water Service Line Coverage, which provides up to $8,500 per service call (30-day waiting period includes a money-back guarantee) with multiple service calls for covered water service line repairs. This coverage from SLWA is only $5.75 per month, plus applicable taxes, and can help protect you from costly repairs.
NOTE: You may want to check with your insurance agent to find out if you already have service-line coverage in place as part of your home-owner's policy. 
---
Coverage subject to eligibility requirements, coverage limitations, exclusions, terms and conditions. Click above for more information.*
Utility Service Partners Private Label, Inc., known as Service Line Warranties of America ("SLWA"), with corporate offices located at 4000 Town Center Boulevard, Suite 400, Canonsburg, PA 15317, is an independent company separate from your local utility or community and offers this optional service plan as an authorized representative of the service contract provider, North American Warranty, Inc., 175 West Jackson Blvd., Chicago, IL 60604. Your choice of whether to purchase this service plan will not affect any service you have with your local utility or community. Your local utility or community and SLWA entered into an agreement to introduce these plans.
Service Line Warranties of America 4000 Town Center Boulevard I Canonsburg, PA 15317 I 1-844-257-8795 © Copyright Service Line Warranties of America. All rights reserved.