From the Desk of Paul Miller
Manager, Operations and Water Quality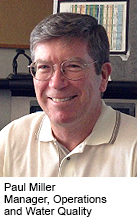 Earlier this month, TMWA's Water Quality team learned their lab had been certified by the Environmental Protection Agency (EPA) to run Method 1623.1, a process for analyzing for Giardia and Cryptosporidium. With this certification, the TMWA Water Quality Laboratory becomes only the 22nd in the country listed by the EPA as able to use this updated method. At the conclusion of this certification process, TMWA's Water Quality Team received congratulations from the Nevada Division of Environmental Protection for "… outstanding analytical excellence," and a "…flawless and perfect audit."
Led by Kelli Burgess, TMWA's Senior Microbiologist, our lab team went through a very strenuous certification audit, conducted by the Nevada Division of Environmental Protection on behalf of the EPA. Method 1623.1 is very complicated and requires great attention to detail, which is why most water utilities send their samples out to third-party laboratories for analysis.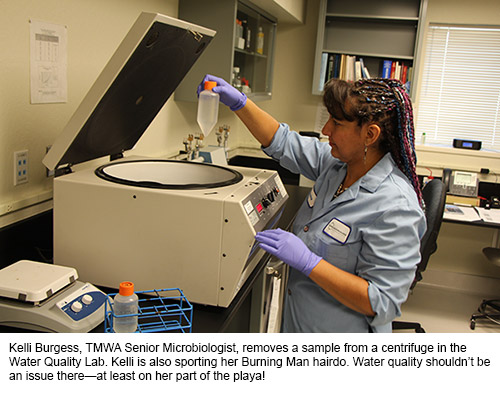 At TMWA we prefer to conduct our own tests in order to have the most direct means possible to monitor our source-water quality. Though the Truckee River does provide an outstanding source of raw water, conditions can change significantly during the year, giving us everything from flooding to the very low flows we are seeing this summer. These fluctuations create equally dramatic changes in the presence of suspended particles and pathogens that we need to treat for. This is why such a rigorous testing regimen has been implemented.
Not only did the lab pass its Method 1623.1 certification audit, it excelled. Don LaFara, Laboratory Certification Program Manager for the Nevada Division of Environment Protection, gave Kelli and the TMWA Water Quality team the highest marks he has ever awarded. In a glowing email to Kelli, LaFara made the following remarks:
"I would like to congratulate you for a flawless and perfect audit … In 23 years of auditing laboratories, it is extremely rare to have zero deviations. I must not be doing a very good job if I could not find anything to cite you for with the exception of, the citation and proclamation of outstanding analytical excellence! Well done, Mrs. Kelli Burgess. You have set the standard by which I will hold all other labs to."
Obviously we at TMWA are very proud of this certification and gratified by the praise Kelli and her team has received for it. Even more important, we are glad for the additional validation that we are living up to our commitment to water quality excellence.
To learn more about TMWA water quality, visit www.tmwa.com/quality