Bill Hauck
TMWA Senior Hydrologist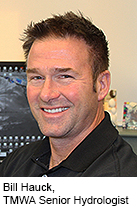 As the weather heats up in the Truckee Meadows, we're seeing the expected, seasonal increase in customer water demand. Last week's average demand reached 97 million gallons a day and we also hit our highest one-day volume so far this year with 103.8 million gallons on Sunday, January 8. Overall consumption is very much on par with last year, at 99.9% of 2013 levels. Truckee River flow at the CA/NV state line was running at 650 cubic feet per second Monday morning.
If you would like more information on our area's current water situation, I recommend taking a look at TMWA General Manager Mark Foree's recent "Your Turn" article in the Reno Gazette Journal: click here.