Hibiscus syriacus (Rose of Sharon)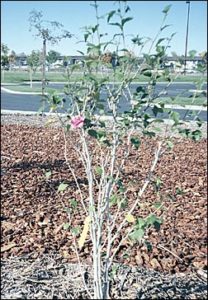 This plant can be grown as a large multi-stemmed shrub or trained into a single stem small tree, 10-12 ft. tall. It is very late to leaf out, sometimes as late as June.
It is useful as a hedge, screen or background plant. It tolerates full sun to partial shade, clay soils, heat, wind and cold. The flowers bloom August through September, and are rose, lilac, white or a bluish-purple. This plant is not bothered by rabbits, squirrels nor deer.
Category:  Shrubs

Water Use:  Low

Sun Exposure:  Full Sun

Height x Spread:  10-12 ft. tall

Native:  No

Color:  Pink, white, blue, purple

Bees:  Yes

Birds:  No

Butterflies:  No

Cut Flower:  No

Utility Tree:  No

Extra Maintenance:  No

Soil:  N/A

Fall Color:  No

Bloom Time:  Summer