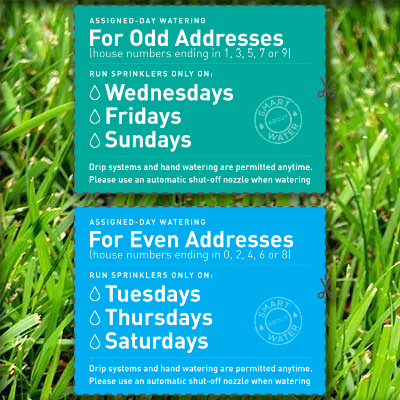 Knowing whether your street address is odd or even will help you remember your watering days. Through our Assigned-Day Watering program, everyone gets three days each week to run sprinkler systems. Even addresses water their yards on Tuesdays, Thursdays, and Saturdays. Odd addresses water on Wednesdays, Fridays, and Sundays. To prevent evaporation, please avoid watering between the hours of 11:00 a.m. and 7:00 p.m. (However, efficient drip irrigation and hand watering are allowed at any time.)
Please remember: There is no watering on Mondays, which allows our water system a day to recover.
Being smart about water is a way of life in the Truckee Meadows, and Assigned-Day Watering keeps yards healthy, water bills low and helps avoid waste.
Download your watering schedule here.
Learn more about Assigned-Day Watering