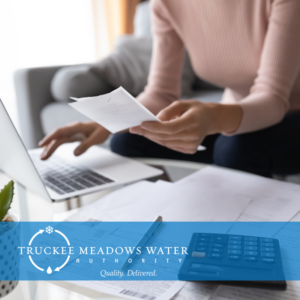 Save on checks, stamps, and time! Use AutoPay to ensure your water bill will be paid on the day it is due. There's nothing else to do, and there is no cost for this service—just set it and forget it. Bills get paid on time, every time.
Payment verification included—You will still receive a monthly water bill showing your payment and due date, but once you sign up for AutoPay, the payment process is effortless. Each bill will be paid automatically, and AutoPay will send you a confirmation of your transaction.
Never worry about expired credit cards—Payments made directly with eCheck are free and won't get interrupted by an expired credit card. As long as you are a TMWA customer and your bank settings don't change, your payment will process automatically.
Signing up is easy—Have a recent TMWA water bill handy so you will have your account number available if it's your first time signing in. To establish AutoPay, you will also need your bank account and routing number. Here's how to sign up:
Log onto tmwa.com/online.
Click on "Bills & Payments" in the left navigation bar.
Select the "Sign Up for AutoPay" button on the right side of the screen.
Follow AutoPay enrollment instructions.
If you have questions about your water bill or need help establishing your online account, please contact TMWA at (775) 834-8080.