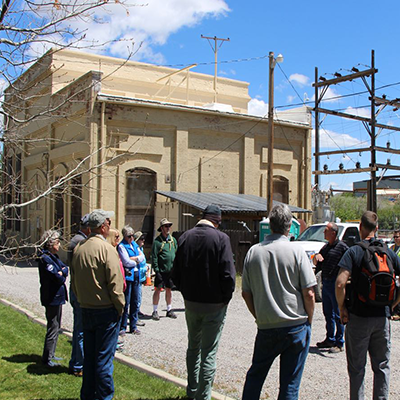 Learn how Truckee Meadows Water Authority (TMWA) produces clean water and energy by touring TMWA's hydroelectric and water treatment plants this September. All tours are free and only require a reservation to attend.
Hydroelectric tours will be held onsite at TMWA's Verdi Hydroelectric Power Plant, which has produced clean, renewable energy for over a century. Located upstream of the Chalk Bluff Water Treatment Plant, the hydro plant harnesses the natural flow of the Truckee River to generate more than 2.3 megawatts of power annually with turbines that have been in use for over 100 years.
The Verdi hydro plant is one of three plants on the Truckee River. From July 2017 through June 2018, these plants generated an all-time high, or $3.7 million in revenue, which offsets TMWA's power costs and helps keep rates low for customers. Hydroelectric tours will take place on Wednesday, August 29, at 2:00 p.m.; Wednesday, September 5, at 10:00 a.m.; Saturday, September 15, at 10:00 a.m.; Wednesday, September 19, at 2:00 p.m.; and Wednesday, September 26, at 2:00 p.m.
Water treatment tours will be held at the Chalk Bluff Water Treatment Plant, where attendees will meet our team of highly skilled engineers, scientists, and operators and learn how they work to provide our community with high-quality drinking water. Visitors will see the steps it takes to get water from the Truckee River to the tap and learn about the 1,000+ tests conducted every month to ensure TMWA's water is of the highest possible quality.
The Chalk Bluff Plant has been recognized with the President's Award from the Partnership for Safe Water, which ranks it among the highest-performing water treatment plants in the country. Sign up for one of our five treatment plant tours: Tuesday, September 4 at 10:00 a.m.; Tuesday, September 11 at 3:00 p.m.; Tuesday, September 18 at 1:00 p.m.; Saturday, September 22 at 10:00 a.m.; or Tuesday, September 25 at 10:00 a.m.
While both the hydroelectric and treatment plant tours are free, each tour is limited to 20 people, so be sure to RSVP to rsvp@tmwa.com or call 834-8290. Please note these are lengthy walking tours and will involve a significant number of stairs and walking on uneven surfaces. Participants must be at least 18 years of age, although educational tours are available by request.