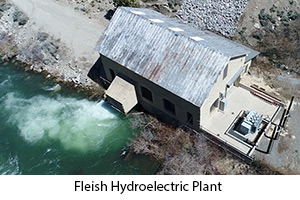 Truckee Meadows Water Authority (TMWA) announces a record-breaking year for clean power generation. From July 2017 through June 2018, TMWA's three 100-year-old hydroelectric plants generated an all-time-high of $3.7 million in revenue due to high river flows. TMWA owns and operates the Washoe, Verdi and Fleish plants on the Truckee River for the benefit of customers. The power generated was sold to NV Energy and significantly offset the power costs of the water system.
The total kilowatt hours produced by the three hydroelectric plants reached 52,367,487 KWh, breaking the former record set in 2012/2013 by more than 200,000 KWh. The revenue produced from the hydro power sold to NV Energy was $3,757,043.39.
"Hydroelectric power has consistently been a key asset to help limit costs for our customers over the years, helping to keep rates lower," said Pat Nielson, TMWA's director of distribution maintenance and generation.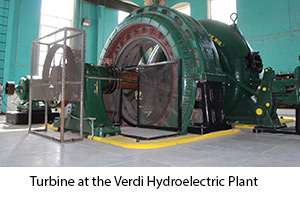 The hydroelectric power generated by TMWA is not dependent on the release of stored water from a dam; rather, it uses a "run-of-the-river" configuration in which water is diverted from the river to drive generation turbines.  The same amount of water that flows into the plants is returned to the river unchanged.  Technological upgrades over the years have made management of the plants more efficient, but the core process of green energy generation has remained the same for more than a century.
The contribution TMWA's hydroelectric plants make to the quality of life in the Truckee Meadows is not entirely financial. When all three plants run at capacity, more than 90,500 pounds of CO2 emissions are eliminated daily from the atmosphere. In one year, this is roughly 15,000 metrics tons of CO2 that would be released if TMWA relied exclusively on fuel-based power generation. While there certainly are dry years and maintenance issues that keep the plants from running at capacity all the time, the fact remains that TMWA's hydroelectric plants make a major contribution to northern Nevada's green-energy portfolio.
Learn More: TMWA's Hundred-Year-Old Hydro Plants Can Eliminate 15,000 Metric Tons of C02 Emissions Every Year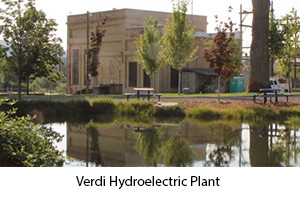 "These plants have always been important to this region," said Nielson. "In the early 1900s, the plants provided power to the Virginia City mining industry; now hydroelectric helps us keep TMWA's operational costs very low in the delivery of water to over 425,000 residents in our service area. They are as relevant today as they have always been."