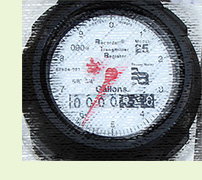 The Truckee Meadows Water Authority (TMWA) Board of Directors voted at its December, 2014 meeting to begin the public process to receive input on the possible conversion of all remaining flat-rate customers to metered billing. The Board of Directors made a final decision on when to implement conversion at its May 21st, 2015 Board meeting. The Board voted to move forward with converting flat-rate customers—with the exception of former STMGID flat-rate customers—to the metered rate, beginning October 1, 2015.This was after a public meeting were held to receive public input (see below).
As part of the public process, the Board encouraged customers to share comments and concerns at the Customer Open House and other public meetings prior to the Board's vote on this issue:
Customer Open House (Completed): Held on Tuesday, March 10th from 3 – 6 p.m. at the California Building in Idlewild Park, Reno. Customers dropped in to our Open House and talked one-on-one with TMWA staff who discussed the timeline the Board has approved for possible implementation and answered questions. All customer comments made that day were formally presented to the TMWA Board of Directors prior to their March 18. To help customers find out how much they would pay at the metered rate, customer service staff was present to assist. Customers were also able to sign up for a free water-usage review to see if there are leaks at their property or ways they could save water and reduce their water bill. TMWA also had landscaping and tree experts available at the workshop to answer questions.
TMWA Board Meetings: Below is the schedule of public meetings that addressed possible amendments to TMWA's rules to accommodate potential billing changes to flat rates.
March 18, 2015: The Board discussed possible flat-rate conversion at their Wednesday, March 18th meeting and implementation of the conversion is currently proposed to occur on October 1, 2015.
April 15, 2015: A first reading of the proposed rule and rate change was conducted at the Wednesday, April 15th Board meeting. The Board voted to remove the former South Truckee Meadows General Improvement District (STMGID) flat-rate customers from this process and refer the first reading of the rule and rate change to a second reading to be held at TMWA's May 21 Board meeting.
May 21, 2015: A second reading of the proposed rule and rate change and public hearing was held at the Thursday, May 21st Board meeting. The Board voted to move forward with converting flat-rate customers—with the exception of former STMGID flat-rate customers—to the metered rate, beginning October 1, 2015.
October 1, 2015: All remaining flat-rate customers with a meter installed were converted to a metered rate—with the exception of former STMGID flat-rate customers.
Customers are welcome to provide public comment at any one of these meetings. All times, dates and locations for TMWA Board meetings are available on the TMWA website, with meetings typically occurring at 10 a.m. in the Sparks Council Chambers at 745 4th St. in Sparks. To view meeting times, agendas and minutes for the TMWA Board of Directors, click here.
Standing Advisory Committee Meetings: TMWA's Standing Advisory Committee (SAC) will review any flat-rate conversion proposal and make its recommendation to the TMWA Board. The SAC is an advisory committee to TMWA's Board and staff; they are made up of individuals representing every TMWA customer class. Their meetings are also open to the public and allow time for public comment. SAC meetings are typically held on the first Tuesday of every month at 3 p.m. at TMWA's offices at 1355 Capital Blvd. in Reno.
Comments to the Board: For those unable to attend a meeting, customers can submit their comments through our website at www.tmwa.com/comment. Filling out the form will ensure that your comments are distributed to the Board of Directors at their next meeting. You may also mail in your comments to TMWA Board of Directors, P.O. Box 30013, Reno, NV 89520. The deadline for submissions is one week prior to a Board meeting.
As a water provider, we encourage responsible water use throughout the year. To assist customers, we provided the following resources and tips on water usage and how to reduce their monthly bill:
On the bill: Most flat-rate customers already had a meter installed at their home. They were able to refer to the comparison information on your bill to see what you would pay at the metered rate. If you do not have your previous bills, you are welcome to contact TMWA's Customer Service Department at 834-8080. We will assist you in determining your past water usage, as well as what you would pay at the metered rate.
Website: Visit www.tmwa.com and learn how to detect leaks around your home by checking your irrigation system throughout the spring and summer months, looking for leaks or broken parts and adjusting the timer/controller. Indoors, leaky toilets are most often the cause of high water bills. These problems are common and can waste a lot of water. For tips on determining if you have a leak, refer to our how-to videos and other resources available in the conservation section of www.tmwa.com.
Online Landscape Guide: Visit www.tmwalandscapeguide.com, which provides information on water-efficient plants, planning your landscape, tips on lawn care, and watering in our high-desert region.
Water-Usage Review: We have staff available to perform water-usage reviews to help locate and resolve many potential issues, such as leaks or irrigation concerns.
Information on tree care: Visit www.communityforestry.org if you have concerns about your trees. TMWA's tree-care website provides information on tree care in our high desert. You can also submit a question to a local arborist, or request a free on-site consultation about your specific tree issues. Please call TMWA's conservation department at 834-8005. If you have any additional questions, would like to schedule a water-usage review, or are interested in converting to a meter now, please call Customer Service at 834-8080.