At its June meeting, the TMWA Board of Directors voted to name Kristopher Dahir as Chair of the TMWA Board of Directors. Naomi Duerr was elected to the Vice Chair position. Their terms began July 1. They were elected under the new bylaws of oneyear terms and the new requirement that the chair and vice-chair positions rotate between member jurisdictions. Dahir represents the City of Sparks Council and Duerr serves on the City of Reno Council. Next year, a member from Reno will fill the chair role and a member from Washoe County will be vice chair.
"Congratulations goes out to Kristopher and Naomi," said John Zimmerman, TMWA general manager. "They have been on our board for some time and have served the board and TMWA well. They are both deeply informed on water issues and I look forward to working with them this fiscal year," he added.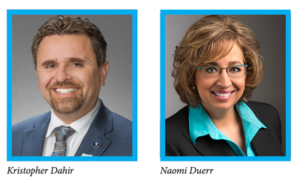 Also serving on the TMWA Board of Directors are Jenny Brekkus and Devon Reese, City of Reno; Paul Anderson from the City of Sparks; and Alexis Hill and Clara Andriola from Washoe County.