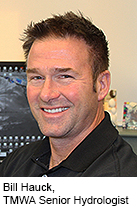 It's not exactly news that the snow situation in the Sierras is not good. The storms two weeks ago were welcome—and we're always hoping for more—but as "winter" progresses, the likelihood of another year of drought is starting to sink in. Snowpack in the Truckee River watershed is approximately 36% of average, and Lake Tahoe Basin snowpack was just 23 % of normal as of this morning.  These are definitely not the kind of numbers we were hoping to see this late in the season, especially after three exceptionally dry years in a row. It now appears the Sierra Nevada will be experiencing a fourth straight dry year, which is unprecedented for our region.
The ongoing drought conditions will have negative implications for stream-flow runoff this spring.  Though we expect to have normal river flows in the early summer months, TMWA will likely have to rely on back-up supplies— reservoirs and wells—earlier than last year.
Water consumption in the TMWA service area averaged 33 million gallons per day last week which is normal for this time of the year.  Aquifer recharge averaged about 7.5 million gallons per day.
Think Snow!