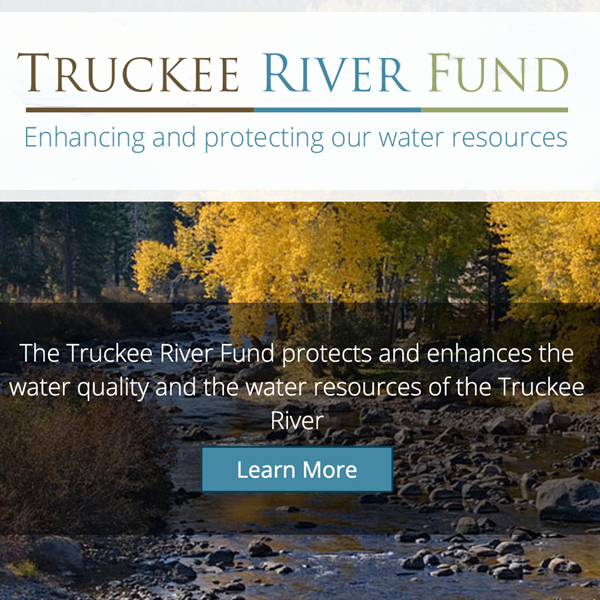 TMWA recognizes that a healthy and thriving Truckee River watershed is directly related to a resilient, high-quality water supply for our community. To advance the protection of the watershed and its water quality, TMWA created the Truckee River Fund (TRF) in 2004. TRF provides grants to local agencies and organizations that are working on projects that improve and restore the health of the river environment. Members of the TRF Advisory Committee research, select and recommend funding for projects that meet these criteria. Selected projects must also provide matching funds, thus maximizing the impact of TMWA's contribution.
In September, 2023 the TMWA Board of Directors approved funding for the following projects:
Sierra Nevada Journeys

Watershed Education Initiative

City of Reno

Lake Park Watershed Project

Keep Truckee Meadows Beautiful

2024 Great Community Clean-Up
Truckee River Clean-Ups
Adopt-A-River Program
Community Education Program

OneTruckeeRiver

Watershed Coalition Building
All projects either improve Truckee River water quality or help increase community watershed stewardship.
Since TRF's inception, $15 million has been approved for distribution to 193 qualifying projects, with $25.2 million matched from organizations receiving funds. Highlights on two past TRF projects are featured below.
Past Project Highlights
2017: Eliminating Sediment to the Truckee River the Truckee River
Watershed Council (Grant #192) received funds from TRF in 2017 in the amount of$185,000 with matching funds of $42,000. The project aimed to improve water quality by restoring actively eroding road networks and associated stream channels that are contributing excess sediment to the Truckee River. Through careful planning, the project coordinators were able to double the anticipated number of miles of dirt road improvements while exceeding the sediment reduction goal, eliminating 80 tons of sediment per year. This was accomplished by bundling project areas and similar project work, leveraging multiple funding sources, and working with experienced contractors.
The project measurably improved water quality for downstream communities and helps minimize impacts to water system infrastructure.
2020: Removing Noxious Weeds 
Washoe County Regional Park & Open Space (Grant# 240) received TRF funds in 2020 to remove noxious and invasive weeds and re-establish native vegetation along the Truckee River corridor. The grant amount was for $45,000 with matching and in-kind funds of $15,000 to improve water quality by stabilizing soils and reducing erosion and sedimentation. Fourteen priority sites throughout Washoe County were identified for the project.
In two years, 45 acres were inventoried for weeds, herbicide treatment was performed on 296 acres, hand pulling weeds was conducted on 43 acres and seven acres were replanted or seeded.
Project coordinators exceeded the stated goals because they were able to utilize more volunteers than usual for weed removal and replanting. The project was also expanded through a weed subgrant with the Nevada Division of Forestry.
View details on all current and completed TRF projects (by name or grant number) at truckeeriverfund.org. Donations to help fund these types of efforts, can be made by contacting the Community Foundation of Western Nevada, TRF's grant administrator, at 775-333-5499.