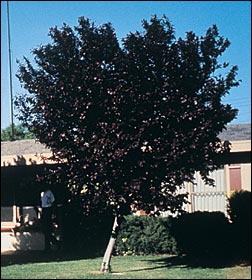 This genus has over 400 species and countless more hybrids, but only the hardiest varieties will be discussed here. It should be noted that though these trees will tolerate heat, cold, drought and wind, they are very susceptible to pests and disease. Most require annual spraying in winter and summer to reduce insect populations. Annual pruning for the first few years to remove sucker growth and to encourage strong branching is a must. (This may continue indefinitely depending on variety.) Grow in full sun, well-drained soil and water deeply once every 7-10 days. Not temperature sensitive. These trees are a valuable food source for birds, rabbits, squirrels and deer. Non-fruiting types are good for streets.
P. cerasifera 'Atropurpurea' (Purpleleaf Plum) — 20-30 ft. tall by 15-25 ft. wide; purple leaves; pink flowers; purple fruit
P. domestica (Fruiting Plum) — 20 ft. tall by 20 ft. wide; pink flowers; red, yellow or
purple fruit
P. maackii (Amur Chokecherry) — 30 ft. tall by 20 ft. wide; fragrant white flowers; 1/4 in. black fruit
P. padus (Bird Cherry) — 30 ft. tall by 30 ft. wide; fragrant white flowers; 3/8 in. black fruit; red fall color
P. sargentii (Sargent Cherry) — 40 ft. tall by 40 ft. wide; pink flowers; 1/4 in. maroon fruit; red fall color
P. virginiana (Canada Red Chokecherry) — New leaves emerge green and turn purple as they mature. Small white, fragrant flowers in clusters come out in May. Tends to produce suckers at the base, which need frequent pruning. Has a rounded, open growth habit. Adaptable to most soils types. Requires moderate amounts of water.