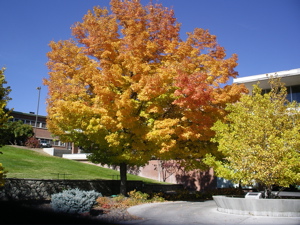 Tree ordinances are important for protecting the community forest and public safety. These municipal regulations provide authority over trees, define responsibilities, offer guidance to residents and establish minimum standards for a community's tree program. Most tree ordinances are focused on publicly-owned trees such as street trees, park trees and trees in public spaces.
Tree ordinances are a tool that help local officials implement community forestry programs. They provide guidance to residents, developers, landscape architects, utilities and private contractors when it comes to trees.
Planting the wrong types of trees in limited spaces can displace sidewalks and result in tripping hazards. Tree roots can also cause damage to curbs, gutters and streets resulting in costly repairs and replacement.
Improperly selected trees or trees planted in poor planting locations can interfere with overhead Other tree ordinance provisions require that only Certified Arborists can get tree work permits when planting, pruning or removing public trees. The ensures the person doing the work has professional training and the work is performed to industry standards.
Tree Topic: Local Tree Ordinances
Washoe County
Washoe County's Parks & Open Space staff are responsible for maintaining public trees in County parks.
City of Sparks
Due to budget cuts, the Sparks City Council eliminated the Sparks Urban Forestry Program in 2008.
City of Reno
City of Reno has a tree protection ordinance in Chapter 18.12, Article V of its municipal code which addresses:
Tree preservation criteria
Tree credits
Replacement of trees and penalties for removal
Tree mitigation plans
Prohibited activities next to trees
Permitted construction methods
Check section 8 of the Reno Municipal Code.
A provision in City of Reno's tree ordinance requires anyone working within 10 feet of publicly-owned trees contact the City's Urban Forester prior to any digging.