From the Desk of Scott Estes
Director, System Planning & Engineering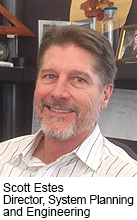 As Ron Penrose, P.E. and project manager at Truckee Meadows Water Authority (TMWA), enters his last few months before retirement, he finds his work on testing and certifying new water treatment and distribution personnel to be particularly relevant. Ron has served for several years as chairman of the Operator Certification Committee and also as chairman of the Management Development and Leadership Committee, for the American Water Works Association's (AWWA)-Calif./Nev. Section. In those capacities, he has supervised operators' certifications in the state of Nevada and developed programs for leadership within the water utility industry.
"The reason I wanted to get involved," Ron said, "has to do with sustainability. Over the next few years we're expecting to see a lot of folks retiring from a number of knowledge-intensive positions. This is why TMWA has taken a leading role in ensuring the continuity of professionalism by becoming the state-wide administrator for the certification process for water treatment and distribution personnel."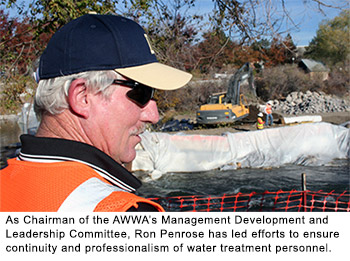 Through long experience, Ron knows it's critical to stay in front of the demand for trained operators. "It's not the sort of thing you can learn how to do overnight," he says. "Our quality standards are intense; there's no such thing as 'close enough' in our business. We need to do everything we can to ensure our staff is totally dialed-in from top to bottom. The operator certification and leadership development programs are a critical part of that. They're rigorous, effective and—best of all—ensure we've got quality people doing these crucial jobs."
With his work on the operator and leadership certification programs, Ron says he feels extremely confident that TMWA's treatment and distribution operations will be in expert hands for generations to come. "We've really built an outstanding culture of quality here; these programs are about making sure it sticks."
Ron also presented a paper on the Public Process of the Glendale Water Improvement Project at the most recent AWWA conference. The presentation outlined how to develop teamwork and trust on a very visible capital project. The Glendale project is now in operation.