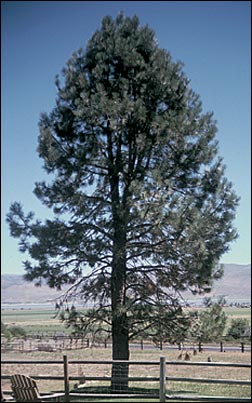 A large group of evergreens that has many species native to Nevada. Pine trees are more tolerant of poor soil, drought, wind and heat than other evergreens. However, they are prone to insect and disease problems when subjected to environmental stress. If planted in full sun, well-drained soil and watered deeply once every 10-14 days, they will thrive. Must be watered monthly in winter when snow is lacking. Not disease prone and doesn't need protection.
P. aristata (Bristlecone Pine) — 20 ft. tall by 10 ft. wide; slow growing; needs rocky, well-drained soil
P. jeffreyi (Jeffrey Pine) — 100 ft. tall by 25 ft. wide; 5-8 in. long dark green needles; cones not prickly
P. monticola (Western White Pine) — 75 ft. tall by 25 ft. wide; soft green needles
P. nigra (Austrian Pine) — 40 ft. tall by 30 ft. wide; fast to moderate growth; needs acid food in clay soils
P. ponderosa (Ponderosa Pine) — 100 ft. tall by 25 ft. wide; 5-11 in. needles; cones prickly; not in turf
P. strobus (Eastern White Pine) — 80 ft. tall by 40 ft. wide; soft green needles
P. sylvestris (Scotch Pine) — 75 ft. tall by 35 ft. wide; dark green needles; orange patches on bark
P. edulis (Pinyon pine ) — Native throughout Nevada at mid-elevations. It is the only single-needled pine. Very slow growing and drought tolerant, good for low-water landscapes. Reaches an average height of approx.10' feet.