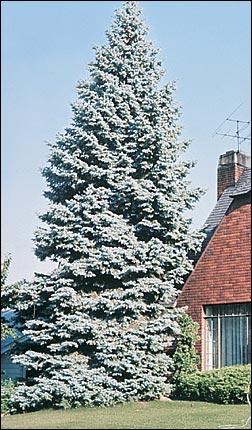 A well known family of evergreens that has many members native to North America. Most of the trees are pyramidal in shape and grow from 50-100 ft. tall. The most common mistake in planting spruce is placing them too close to fences, walkways and buildings and not allowing for their mature width. There are horrible examples all over town of spruces that have outgrown their location and been pruned to "fit" it. Most mature spruce grow about 25 ft. wide at maturity with stiff branches all the way to the ground. Looks best when left unpruned, planted in full sun to partial shade, in well-drained soil and water deeply once-a-week. Not temperature sensitive or prone to disease. Does not need protection. A good choice near turf areas as the overspray from sprinklers helps reduce pest problems.
P. pungens (Green Spruce) — 75 ft. tall by 25 ft. wide; green needles; most drought tolerant of species
P. p. 'Glauca' (Blue Spruce) — 75 ft. tall by 25 ft. wide; silvery blue needles
P. p. 'Fat Albert' — 12 ft. tall by 10 wide; same shape as P. p. 'Glauca' but dwarf; blue gray needles
P. abies 'Norway Spruce' — Drought tolerant and resistant to insects and diseases. Adaptable to a variety of soil conditions and can tolerate partial shade. A good choice for planting on the northern or eastern edge of your property. Good cover for birds and wildlife.
P. omorika 'Serbian Spruce' — Narrow pyramidal shape with graceful arching branches. Needles dark green above and silver-banded beneath. Fairly tough tree adaptable to a wide range of soil conditions. Can tolerate shaded areas. Not as large as Norway Spruce.