Public Input Page for Draft 2020-2040 Water Resource Plan

Welcome to the Public Input Page for TMWA's Draft 2020-2040 Water Resource Plan
Since 2001, Truckee Meadows Water Authority (TMWA) has continually updated its Water Resource Plan (WRP) to analyze future conditions and to outline strategies to meet the region's drinking water needs. From the lowest snowpack year in recorded history (2015) to the wettest water year on record (2017), TMWA has effectively managed its water resources to provide a resilient and reliable water supply for the region.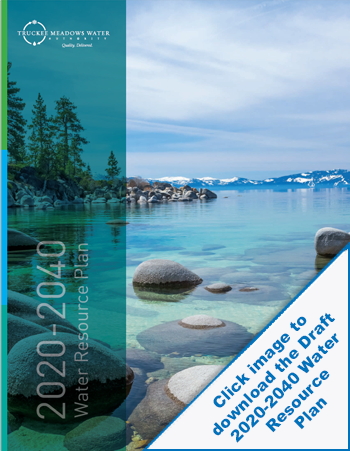 Diligent planning requires an analysis of a broad range of future conditions. Accordingly, the 2020-2040 WRP incorporates climate and population scenarios that effectively stress test the community's water system for the next 20 years and beyond.
To adapt to changes over time, the WRP is updated every five years. This current revision is 18 months in the making and has incorporated customer feedback from the beginning.
Of the customer insights collected so far, the top concerns are related to two topics: population growth and extreme climate variation. TMWA's approach to these issues are woven throughout this plan.
If you would like to be part of the conversation as TMWA finalizes the WRP, there are a number of ways to provide input: 
How You Can Participate
Public Meetings: Since water is critical to all of us in the Truckee Meadows, we encourage the community to participate as we finalize the 2020-2040 Water Resource Plan. Below is a schedule of public events where you can learn more about the plan as well as share any questions or comments you may have.
Ask Questions Online: If you wish to ask a question or make a comment here, scroll to the bottom of the page where you can submit your questions or comments on a simple form. You can also send questions to: wrp@tmwa.com.
Public Outreach Schedule
Public Meetings
To view TMWA Zoom webinars on Facebook Live, visit our Facebook page at: https://www.facebook.com/truckeemeadowswaterauthority/
To see the PowerPoint slide presentation from the public workshops, click here.